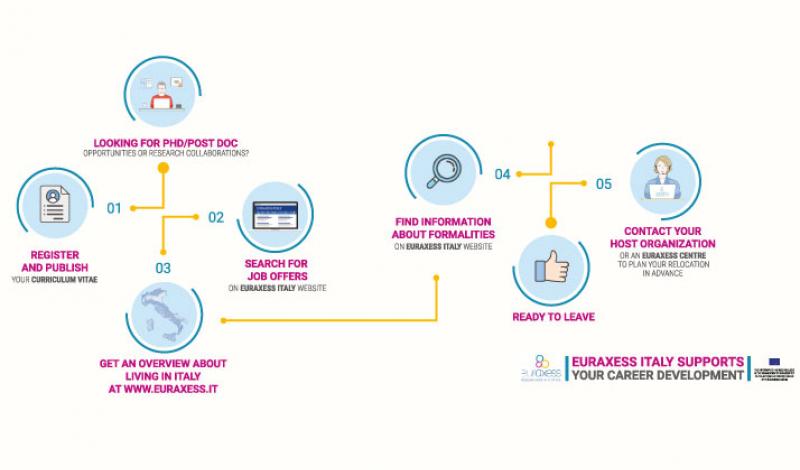 EURAXESS – Researchers in motion is a joint initiative of the European Commission and the participating member states to make European scientific careers more attractive to researchers from around the world and facilitate the mobility of researchers in EU countries.
EURAXESS covers four main fields of action.
EURAXESS Job
Helping to identify job opportunities, research grants, funding through access to an international database, where (private and public) research bodies and researchers can respectively publish job and funding opportunities and CVs. All free of charge.
EURAXESS Services
A network of over 200 offices in around 40 countries providing practical information and customised support to researchers working abroad and their families.
EURAXESS Rights
Provides information on the "The European Charter for Researchers and the Code of Conduct for the Recruitment of Researchers", and on the institutions which have already adopted the implementation mechanism known as the "Human Resources Strategy for Researchers" and obtained the "HR Excellence in Research" logo.
EURAXESS Link
Used to create contacts between European researchers working abroad, allowing them to maintain contact also with Europe.
Since May 2021, the University of Foggia has signed a Service Commitment with the European Commission to become a Local Contact Point (LoCP) of the Euraxess Service Network. The network comprises over 200 Service Centers and Local Contact Points located in 40 European countries created by the EU with the aim of contributing to the development of a friendly mobility context for researchers and enhancing scientific relationships.
The mission of the UniFg LoCP is to provide free and personalized assistance to researchers in mobility, such as: accommodation, language courses, visa formalities, permit of stay, social and cultural aspects.
Euraxess Local Contact Point is located at the HR Strategy Unit – Research Department
Head: Dott.ssa Laura De Palma
Email: [email protected]